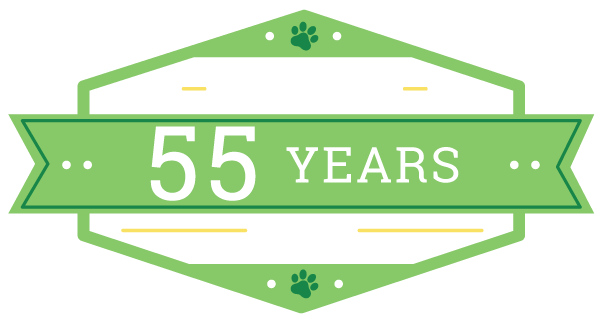 a note from Greg
HERE AT COUNTRY ACRES WE TAKE PRIDE IN PROVIDING YOUR PET A WARM, LOVING AND EXPERTLY STAFFED ENVIRONMENT. FOUNDED IN 1966, WE ARE A FAMILY OWNED AND OPERATED BUSINESS AND WE ALWAYS WILL BE.
Country Acres was created when Bob Spitler, a retired engineer at MacDonnell Douglas, and his wife Debbie Spitler, a third grade teacher, were walking past an old, run-down kennel near their apartment. They often took night walks together but they had never considered creating their own kennel. Right then and there Bob and Debbie realized that they would combine their love of animals and the outdoors and create the ultimate pet boarding kennel, Country Acres!
During the first year, Country Acres averaged around 5-10 dogs per day. At the time, this was business! If only we knew. Currently, we can accommodate over 200 dog boarders a day. The company grew and soon became a charter member of the American Boarding Kennels Association (ABKA). Bob and Debbie then earned their Certified Kennel Operator (CKO) licenses, making them professionals in the field of pet care. Throughout the years we have also updated and added new facilities to form a facility that is continuously unmatched by any other in Missouri.
history of the facility
BOB AND DEBBIE SPENT MANY MONTHS SEARCHING FOR THE PERFECT PROPERTY FOR COUNTRY ACRES, AND THEY FOUND IT IN OUR 6-ACRE SPREAD AT 739 WEIDMAN ROAD.
In the beginning only one kennel wing was built. Besides the outside runs, there were no other fences. Exercise and Playtime did not exist. The receiving office and cattery resided in a converted chicken coupe left behind by the previous owners. . In 1972, a second wing and kitchen were added. In addition, a fence surrounding the entire kennel was constructed, constituting one, huge yard. Hence, Playtime and Exercise were born.
When I took over we desperately needed a new receiving office and cat facility. We felt the old chicken coupe had served out its purpose. As a result, in the fall of 1995, we broke ground and construction began. The beautiful new facility was completed and open to the public in August of 1996. Now our pets have a facility unmatched by any other in the state of Missouri.
country acres today
While my sister, Susan, and I were growing up, we continually learned new things about the business and how to care for animals. We used to cover the night shifts on Saturdays, which on average took us five hours instead of the normal two hours it was supposed to take. But, we eventually got it down to a science and soon trained others.
After I graduated from college, I decided to stay in the business and become its full-time manager. I have a lifetime of experience and history with Country Acres and I know I made the right career choice.
Other significant events that have taken place over the years include: Marrying my wife and business partner, Nicole Thompson, in May of 1997. Together, we hired our General Manager, Ruth Parrish, in December of 1998. Nicole and Ruth both earned their CKO's in 2003, leaving us with the highest number of Certified Kennel Operators onsite at any pet resort in St. Louis. Nicole founded a thriving not-for-profit 501c(3) animal rescue organization appropriately called Country Acres Rescue in 2000. In eight years we've saved and placed over 2500 homeless, domestic animals.
Furthermore, my sister-in-law, Ashley Thompson, joined our team full-time shortly after graduating from Truman University in 2006. She is currently our Office Manager and Volunteer Coordinator, and has launched our new Playcare program, a Distinct Doggie Daycare in early 2008. A brand new boarding wing with kitchen was constructed in 2006 and made open to the public in early 2007. And last, but not least, we added our full-time Pet Care Manager, Amanda Kiefer to our team in 2014.
Sadly, my father and founder of Country Acres, Bob Spitler, passed away in September 2002. He will be deeply missed.
However, Bob would be proud by how far we have come. And I am certain our future will offer even more challenges, growth, and excitement.
Nicole, Ashley, Ruth, Amanda and I are happy to welcome you and your pet(s) to Country Acres. We hope you allow us the opportunity to serve you and your pet(s) with the warm, inviting and friendly atmosphere and staff we have worked so hard to attain since 1966.
warmly, greg thompson