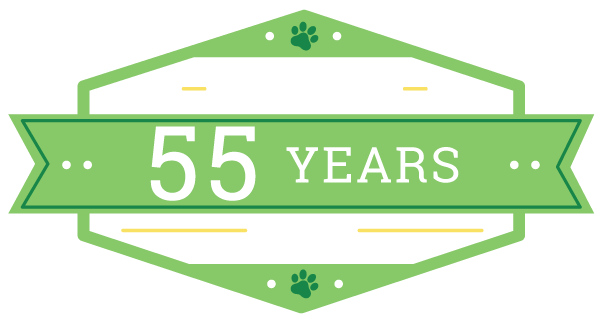 activities
fun with food:
We offer a variety of "Fun Food" options to our boarders. You can sign your dog up for Peanut-Butter Kongs, SweetSpots frozen ice cream, Pupcorn, Biscuits & Gravy, and/or Special Holiday Meals. For our Feline guests we also have Tuna Kitty Kocktails, Catnip Tea Time, and/or Special Holiday Meals available.
senior love program:
The program was designed to cater to the special needs of an older or special needs pets. Each animal is assigned a staff member who nurses your pet and keeps extra daily track of important matters such as appetite, let-outs, necessary medications, additional comfort and overall happiness. All animals are given a special bed and bedding and are separated from more active, younger pets. A detailed record is kept on your pet. You may request a copy of this record at check-out.
for dogs:
Country Acres is surrounded by 25 individual grass and/or gravel, tree-shaded yards, enclosed by six-foot, secured chain link fences.
The Exercise Program was designed to offer your dog the opportunity to get out into yard as s/he would have at home in the backyard to run off any excess energy and/or to relax in the sun and fresh air.
Dogs enrolled in the Playtime Program will receive full attention from one of our experienced staff members during their yard time, based on their individual needs and wants. One dog might benefit from a game of tetherball or Frisbee, while another might prefer to be brushed, stroked or talked to. We custom tailor the program to fit each guests. Small, controlled, friendly playgroups with other canine guests are also available per your request.
Queeny Park Hikes for Dogs:
We offer 20-25 minute walks following many of the horse trails across the street at Queeny Park.  Water and special staff attention are included.
for cats and exotics:
Exercise and Playtime Programs are also available to cats and exotics. The set up is very similar to that of dogs, however the time out is conducted on one of our two large indoor playrooms that are designed to reflect a living room setting. Each playroom contains a TV/DVD, huge climbing trees and climbing equipment, scratching pads, toys and a comfortable couch and chair to snooze on.
Porch-time for Cats:
This program was developed for the "outdoor lover." Our double screened-in porch area allows many sun worshipers a chance to unwind and catch a few rays.
reserve a spot today!
Need to board your pet? Each pet at Country Acres is offered a clean, climate controlled environment with piped in music to create a soothing atmosphere. Our facilities are also equipped with carbon monoxide and smoke detectors. In addition, we are hooked up to Hackett Security for extra peace of mind.